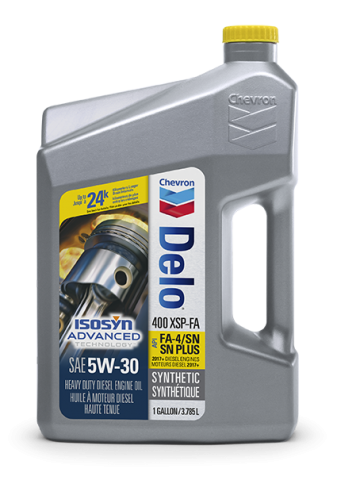 Motor Oils
Automotive
Heavy Duty
Recreation Vehicles
DELO 400 XSP SYNTHETIC 5W-30
25-7001
Description
Delo® 400 XSP Synthetic SAE 5W-30 is a mixed-fleet motor oil recommended for naturally aspirated and turbocharged four-stroke diesel engines and four-stroke gasoline engines in which the API CK-4 or API SN service categories and SAE 5W-30 viscosity grade are recommended. It delivers value through fuel economy improvement, consistent cool engine starting, exceptional soot dispersancy and wear control, exceptional deposit control and excellent emission control system life.
Application
Delo 400XSP Synthetic SAE 5W-30 is excellent for use in new advanced engines developed to meet the latest emissions and reliability standards and in engines equipped with new features. Vocational and light duty fleets are often a mix between diesel and gasoline engines. This product is API SN and will meet the latest gasoline qualifications providing for one oil in a mixed vocational, short haul, or delivery fleets.
Formats
BULK
3 X 3.785 L
1 X 18.9 L
1 X 208.2 L
Contact an expert
For more information or to place an order contact us at:
Want to learn more about this product?
Contact us today – our experts are here to help!