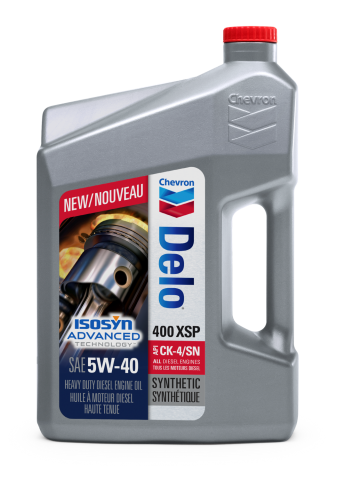 Motor Oils
Automotive
Heavy Duty
Recreation Vehicles
DELO 400 XSP SYNTHETIC 5W-40
25-7002
Description
Delo® 400 XSP SAE 5W-40 (Synthetic) with ISOSYN® Advanced Technology is a mixed-fleet engine oil recommended for naturally aspirated and turbocharged four-stroke diesel engines and four-stroke gasoline engines in which the API CK-4 or API SN service categories and SAE 5W-40 viscosity grades are recommended.Delo® 400 XSP SAE 5W-40 helps keep piston rings clean and free for optimum combustion pressure and minimal wear. It minimizes valve and piston crown land deposits, thereby managing oil consumption.
Application
Delo 400XSP Synthetic SAE 5W-40 is excellent for use in new advanced engines developed to meet the latest emissions and reliability standards and in engines equipped with new features. Vocational and light duty fleets are often a mix between diesel and gasoline engines. This product is API SN and will meet the latest gasoline qualifications providing for one oil in a mixed vocational, short haul, or delivery fleets.
Formats
BULK
3 X 3.785 L
1 X 18.9 L
1 X 208.2 L
Technical Documents
Safety Data Sheet
Testimonial
2, 000 000 KM And Still Flawless
Delo 400 5W-40 engine oïl helps truckers to travel more KM while keeping parts intact.
Transport Norvinic, a Québec-based company from Abitibi-Témiscamingue. traveled nearly 2 millions KM with Delo oils.
Click here to read the testimonial.
From Bumper to Bumper, It's Chevron.
Watch the testimonial on Youtube.
(French version)
Contact an expert
For more information or to place an order contact us at: