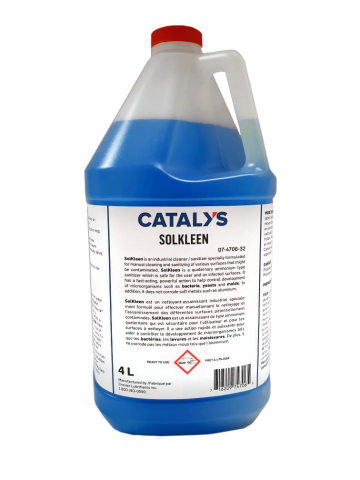 Sanitizers & Solvents
Sanitizers
Solkleen: Cleaner & Sanitizer
07-4706
Description
SOLKLEEN is an industrial cleaner / sanitizer specially formulated for manual cleaning and sanitizing of different surfaces that might be contaminated. It is ready to use and has a pleasant smell of cleanliness. SOLKLEEN is a quaternary ammonium type sanitizer which is safe for the user and for the surfaces to be cleaned.
Application
Remove all visible debris and apply with a manual sprayer or using a pad or a mop, coat the surface well and scrub. Wait a few minutes and rinse with warm water (> 50 ° C) using a garden hose, a mop or a cloth. This cleaner is most effective in hot weather. High pressure scrubbing and rinsing is always recommended for best results. For surfaces such as countertops: spray, wipe and let dry.
Formats
BULK
4 X 4 L
1 X 20 L
1 X 205 L
Contact an expert
For more information or place an order contact an expert at
Want to learn more about this product?
Contact us today – our experts are here to help!