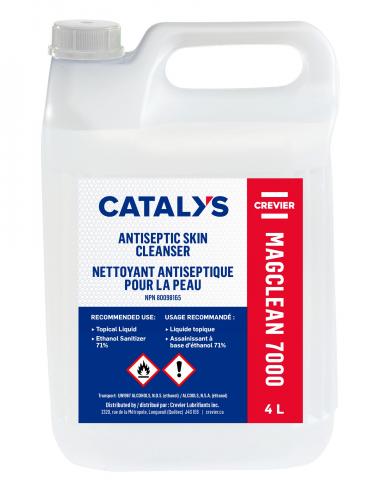 Sanitizers & Solvents
Sanitizers
MagClean 7000: Liquid Hand Sanitizer
95-7000
Description
MagClean 7000 is a 70% alcohol based hand sanitizer. It cleans the hands without drying as it contains a hydrating agent. The product is approved by Health Canada, it's NPN number is 80098165. This product is for adults only.
Application
Used without water, the product quickly evaporates and does not leave the skin feeling greasy.
Formats
BULK
12 X 1 L
4 X 4 L
1 X 20 L
1 X 205 L
2 X 1 L
2 X 4 L
Available in regions
Quebec/East
Ontario
British Columbia
Contact an expert
For more information or to place an order contact us at:
Want to learn more about this product?
Contact us today – our experts are here to help!