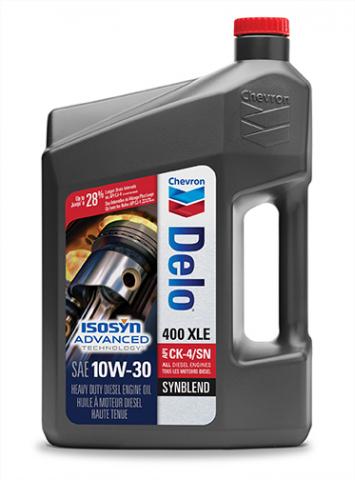 Motor Oils
Automotive
Heavy Duty
Recreation Vehicles
DELO 400 XLE SYNBLEND SAE 10W-30 CK-4
25-7000
Description
Delo 400 XLE SAE 10W-30 (Synblend) with ISOSYN Advanced Technology is an API CK-4 heavy-duty engine oil specifically formulated for on-highway applications. It is formulated with ISOSYN Advanced Technology, which is a combination of Chevron's industry-leading formulating expertise with unique, high performance additive chemistry to help extend the durability of critical engine parts.
Application
Delo 400 XLE SAE 10W-30 with ISOSYN Advanced Technology is a fuel economy and mixed fleet motor oil recommended for naturally aspirated and turbocharged four-stroke diesel engines and four-stroke gasoline engines in which the API CK-4 or SN service categories and SAE 10W-30 viscosity grade are recommended. It is formulated for engines operating under severe service and a wide range of climatic conditions. Excellent performance in new advanced engines developed to meet the latest emissions and reliability standards and in engines equipped with features like four-valve heads, supercharging, turbocharging, direct injection, higher power density, intercooling, full electronic management of fuel and emissions systems, exhaust selective catalytic reduction, exhaust gas recirculation, and exhaust particulate filters. Delo 400 XLE SAE 10W-30 with ISOSYN Advanced Technology is formulated for exceptional performance with ultra-low sulfur diesel (ULSD) and other low sulfur diesel fuels.
Formats
BULK
3 X 3.785 L
1 X 18.9 L
1 X 208.2 L
1 X 1000 L
PITPACK 22.71 L
Contact an expert
For more information or to place an order contact us at:
Want to learn more about this product?
Contact us today – our experts are here to help!